Welcome to Holy Trinity Lutheran Church!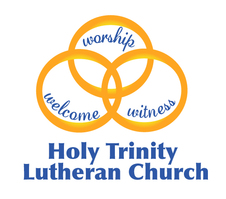 ---
Worship Opportunities
Saturday Contemporary Worship at 5:30 pm
Sunday Traditional Worship at 10:00 am
Holy Communion is celebrated weekly at both worship services.


Christian Education
Grace Place (for children 3 years of age thru 4th grade) fourth Saturday each month at 4:00 pm (September thru May)
Teens & Tweens Hour (for kids in grades 5 thru 12) fourth Saturday each month at 4:00 pm (September thru May)
Adult Bible Study every Sunday at 11:00 am
Brown Bag Bible Study every Thursday at 12:00 pm

Office Hours
Monday: Closed
Tuesday - Friday: 8:00 am to 1:00 pm
Please call first so that we don't miss you!






** UPCOMING ACTIVITIES **

QUILTING
Each Tuesday, 6:30 pm at the Youth House

ANNUAL FLEA MARKET
September 12, 8:00 am - 2:00 pm
Church parking lot

GRACE PLACE KICKOFF!
September 19, 5:00 pm, Youth House

FAITH FAMILY FUN NIGHT!
September 19, 6:30 pm, Fellowship Hall
Ice Cream Sundae Contest!

BEER & BIBLE STUDY
September 23, 7:00 pm
Grotto Pizza, Edwardsville

TRUNK or TREAT!
October 24, 4:00 pm - 5:15 pm
Church parking lot

See our Calendar on the Events page for more details!



---



** OTHER ANNOUNCEMENTS **

COATS WANTED - ALL SIZES/ALL SEASONS!
Donations are being accepted now for our "Have Two Coat Closet" ministry.

TRINITY TEXTS
If you'd like to receive a weekly faith-related text message, call or email the church office with your cell phone number.

WEEKLY FLOWER & BULLETIN SPONSORSHIPS are available - sign up on the calendar outside the church office.

CHURCH SUPPLY NEEDS:
Paper towels, flats of bottled water, Lysol spray, Gain Original laundry detergentbr> Your donations are appreciated!


---


AL BEECH WEST SIDE FOOD PANTRY

Suggested Donations:
Canned string beans, corn, pease
---
Directions
Holy Trinity is located on Wyoming Avenue (Rte. 11) between Church and Bennett streets in Kingston, Pennsylvania.
Our parking lot is accessible from either Wyoming Avenue or Bennett Street.
Top of Page
Holy Trinity Lutheran Church, 813 Wyoming Avenue, Kingston, PA 18704